Dear Czech out,
6.30am Thursday, 2 April 1998
Karluv Most
On the water, 100 meters from the bridge a lone fisherman in his rowboat sat so still that I am still not sure if it isn't a statue. Some kind of ancient meditation transfixed me as I inhaled the view from the Charles Bridge. Looking up the river to the weir I thought of St Petersburg. That city is awesome. Prague simply took my breath away. The feeling that even though you've heard how wonderful it is when you actually set eyes upon the place for the first time your imagination did not live up to this moment, the real thing. This rare experience makes life worth living.
At dusk with the temperature around 17°C and the rays of the sun pouring through the clouds the magnificence of this city has captured me and made me feel deeply again. When I see and feel this city that connection to an ancient cycle of creation, triumph, destruction and rebirth makes the possibility of continuing not only feasible but essential.
It's 6.30am and raining. Often that is not a good thing for a traveller. However I am in warm safe lodgings for the moment and unusually I brought with me a waterproof jacket. For years I travelled the world without anything waterproof and very occasionally suffered the result. In Prague I read that in winter is is often so densely covered in fog that the air traffic is redirected elsewhere. So I brought with me my waterproof jacket, old mac 145b powerbook, guitar, viola,12 masks of the commedia dell'arte and 3 neutral masks. To do what I don't know. This morning I will go to an office that recruits English teachers. The Bohemia Corps provided me with a booking for this hotel Petrska 3 which is a University College. That was what I needed to start my life here.
I arrive in a city where I don't speak the language. My policy of survival is to speak as little as possible. Whether that is wrong or right I do not really know. It can be quite lonely. Last night I went to the Hari Krishna's about 8pm and not unexpectedly they had well and truly finished their restaurant service. Even though they rise around 4am to pray I was a little surprised their "vegetarian food club" stops at 5pm.
I went to a bar not far away and ordered, in embarrassed english, a dark beer and a plate of spaghetti with mushrooms, vegetables and cheese. When it arrived I saw, before it was placed in front of me, by the colour of the carrots and the texture of the spaghetti that the vegetables were tinned and the pasta overcooked. I had food poisoning from chicken I ate the day before in a restaurant opposite Beauborg in Paris and I wasn't sure if this was what I needed. I had to eat and this simple plate tasted better than it looked. The beer was delicious, came in a huge glass at least the size of an English pint with a more interesting shape, and cost about 50c AUD.
Iva said to me on the phone from Brno that I should go to the Charles Bridge. I said perhaps tomorrow. If I had missed that walk last night through the old town where I saw the clock struck 8 by the skeleton of death and the saints go marching in; the buildings that hold centuries of secrets, love, birth, death, and political and cultural evolution; and the still fisherman I would have missed "it". That first moment that shapes the way one feels about a city ever after would not have been the same.
11:06 AM Sunday, 5 April 1998
From this point I feel as though I have no idea what I am doing and why I am here. How did I get here?
As I listened to Rednecks earlier this morning I was suddenly very sad. That song brought home to me that I can not live on the Gold Coast.
I am on the other side of the world. All that is familiar and the language native to me are far away.
On my own I am sitting in a warm, small, clean apartment almost as big as my old unit at Mainbeach. The freshly painted white walls and new carpet give it a clinical feel. My lodging is for the native speaking english teacher at Uherské Hradiště local school. If I had given them more notice of my arrival they would have had the school band greet me at the bus station. I am reminded of Innisfail High for some reason. Though this town is probably three times the size of Innisfail, it is definitely the back blocks.
Outside my window birds are chirping in a rather large garden attached to the children's playground of which this building is a part. I am back on ground level after having lived in the air for some time.
How did I get here?
I flew to Prague, via Paris, hoping to find a way to enter into the music and theatre scene there. Before I arrived I had contacted an organisation through the internet called the Bohemia Corps who place foreign native speaking teachers in schools in the Czech Republic. When I arrived in Prague the director of the Bohemia Corps persuaded me that to come to Uherské Hradiště would be an excellent experience for the school and a good cross cultural experience for me. On my third day in the Czech Republic I am in Uherské Hradiště.
Well, there are about 10 weeks to the end of semester and in that time the school will organise my work visa, give me accomodation, health cover and pay me about 6000 k per month. I will begin to learn Czech and discover something of provincial Czech life.
Iva, my Czech friend from Brno, is an hour away though at this stage it appears I will never get to see her. I have travelled so far and yet this last small distance is uncrossable. When I ring her place there is no one who speaks English and she is rarely there. The first chance I had to catch up was today but she has the flu and there is no point me visiting apparently. She will visit me briefly on Thursday and leave me to my own devises for the Easter break.
So it is fortunate for me that on my arrival one of the English teachers from Uherské Hradiště decided to take me into her care.
Petra, natural blonde now dyed mouse coloured and about 22, was given some money by the deputy head to take me for a coffee and something to eat to help settle me in. After two beers and a meal of deep fried mushrooms we went back to her place, caught up with Robert her tall, lean aircraft designer boyfriend and went to play pool. And I was doing so well until their local rule kicked in at the end of the game where the black ball has to go in the opposite pocket to the last ball sunk. Lost each time.
Yesterday Petra took me to her grandmothers place in a small village 20 klms from UH where she grows her own food and keeps chickens and rabbits. They had some kind of root that Petra said was chilli. Filomena, the grandmother, grated some up and I tried fresh horse radish for the first time. For lunch Filomena, aged 75, cooked us vegetable soup, potatoes with fried onion sauce, smashed chicken ( pressed chicken roll) and to finish off a large nip of Ślivovitsă. When I left to go home I had two jars of jam, fresh carrots and a bottle of Ślivovitsă ( plum aqua vita).
The only thing Filomena knew of Australia was a neighbour from her village had emigrated there after the war because he had collaborated with the Germans and was afraid for his life. His mother went with him but didn't like it, and returned.
They can buy Kangaroo meat in the shops here but the image doesn't work for them. They can't picture eating such a cute animal.
How did I get here?
Lida Horakova believes some force has brought me in this direction. I too feel something bigger has drawn me here.
Monday, 6 April 1998
10:59 PM
"In the Park" is a new song on its way. All day I walked back and forth over town organising my visa. At lunch I ate in the school canteen. Goulash or backed beans with meat, a vegetable soup and two rolls. They want me to stay here for ever and be a teacher of english grammar. I haven't even started yet. I keep saying, "We'll see!"
Today I discovered why I'm here. They have incredible mask celebrations at the end of winter, Masopust. The festival is in February. I've just missed it this year however I saw their masks in the local museum. Along with a temporary exhibition of bicycles the permanent display is of folk culture in the region. They have devil masks and straw figures with crude face masks and things on sticks. It's fascinating.
Wednesday, 8 April 1998
8:39 PM
Last night I saw the "Academia" at the gymnasium- the local high school cultural presentation. The opening section was well done, a little sloppy but gave a fair indication that they spend a lot of time on their local folkloric music and dances. The costumes are excellent and the dancers and musicians playing gamalan?, violins and clarinet looked to be having fun. The songs are beautiful though I found them roughly handled. There was some strange competition going on to see who could sing louder rather than singing together.
One girl then presented a monologue and was well controlled, not tense and sounded very natural. From here it all went down hill. The class pieces were teacher driven, badly crafted and didn't show the students in their best light. Very cliched choreography held the whole thing at primary school level. Luckily, two boys who played two old men stole the show with very good characterisations, colectomy bag, wheel chair and two walking sticks. A very bad rock band gave me time to go to the toilet. The final number was a sorry U2 "Still haven't found what I'm looking for." Yet a minute before they brought a tear to my eye as the sound of these children singing together beautifully captured moments of "Imagine". We ate tinned mushroom pizza afterwards and I drank a beer while listening to a loud Canadian chat up a girl he works with in English that filled the Pizzeria.
There is a chilly wind that passes through the streets of Uherské Hradiště. Spring is here and the weather is all over the place. Rainy then sunny and warm then colder its like a Melbourne winter.
So I rang Iva and she thinks it will be better if we catch up next weekend. This easter break she is tied up.
On eater Monday I will watch the boys beat the girls. I thought perhaps if the men beat the women one day a year and everyone knows that is what will be then this is a kind of 'fool for the day' shedding of pent up frustration and could be a healthy social act. Apparently it is not the only day that men beat women.
Svatovaclavska 943
Uherské Hradiště 686 01
Czech Republic
Tel: 0632 2677
Thursday, 9 April 1998
A train passes in the distance. It is quite loud for a couple of seconds then fades quickly to nothing. Birds tweeter in the garden outside my window, differently to the strange sounds Australian birds make. They wake me up early in the morning. No need for a cock crow. Then I sleep well from 6.30 onwards when I really need to get up and go to work.
When I arrived in Prague, I had managed in Paris to contact Lida from the Bohemia Corps, I had to ring and find out where I could stay. Lida had organised a University Hotel that had good cheap rooms for visiting lecturers. The next day I went to the office of the Bohemia Corps and met this woman, Lida, who convinced me to come here.
Uherské Hradiště is really the sticks with a population of about 30,000. The benefit is that they had no native speaking English teacher and because it's small I am sort of special. They are interested in me and from the moment I arrived I have been looked after by a young Czech english teacher, Petra, and her boyfriend Robert. Petra took me to visit her granny up in a village 15klms from here. The town is a step back in time. Filomena, her grandmother, is the archetypal peasant woman. Small, stocky, with a scarf over her head, wrinkles that take the place of any girlish features and a big golden toothed grin. An amazing lady whose legs ache and make her feel old. Her husband died only 15 months ago and she misses him. She has chooks and rabbits in the yard, grows and makes all her own food and she sent me away after a huge lunch with two jars of jam, carrots and a litre bottle of Ślivovitsă. This Ślivovitsă is plum brandy; beautiful and you would like it.
Its lucky I wasn't counting on Iva helping me because I still haven't seen her and I have only been able to talk to her twice on the phone. She has been no help whatsoever in finding my way here.
So I'm in Moravia where they had devastating floods last year that were as bad as those in Katherine. The whole place was under water and they are still recovering.
Here in my flat, which is rather comfortable, I live in the caretakers part of an infants building. They are only here between 7am and 5pm. That is why when you rang you couldn't get through to me. in fact I wasn't here. We share the same phone and I work from 8am to 1.30pm with a couple of extra obligations I have to fulfil with theatre and english. My job is to teach english but I said no to the grammar and will concentrate only on conversation. They give me a flat, 6000 k per month ( divide by 23 for Aust. dollars) and a lot of attention. The school is a UNESCO elementary which means from 10-14yrs of age. They have three tiers here, and this is the second level. Some of the children I can converse with fluidly while others don't understand a word. It's only been two days so far so I have no idea what's in store. I would like to use the next 10 weeks here to settle in and learn some Czech and customs and then find somewhere to play music and theatre. They want me to stay here next year but I don't think so. I keep saying that I am not a teacher.
Two nights ago I saw the Gymnasium's ( the highest tier) "Academia". This was their cultural presentation for the year. It started really well with some folk dancing and singing. The young performers enjoyed themselves but even here I felt that it was a bit museum. Then it got really bad with dancing to things like "Barbie girl" and the grand finale to "Still haven't found what I'm looking for". The ideas were not good. It's a small country town and they can't keep up. Thank god they generally relish their traditions and hold them. Somewhere here is the essence of what it is all for. I think in Australia what we brought with us from Europe we have lost and we haven't learnt from the Aboriginal people who know.
They collect flowers and harvest everything here according to it's season. What do we know about this? Well, I want to know. I don't want to live out of touch with the earth.
It provides so much for us and the supermarket should not be the intermediary.
So, I have come this far and shared my thoughts with you.
Every moment I wonder what I'm doing here, what this is all about. So far I still don't know what's happening. I'm enjoying myself and I am completely alone.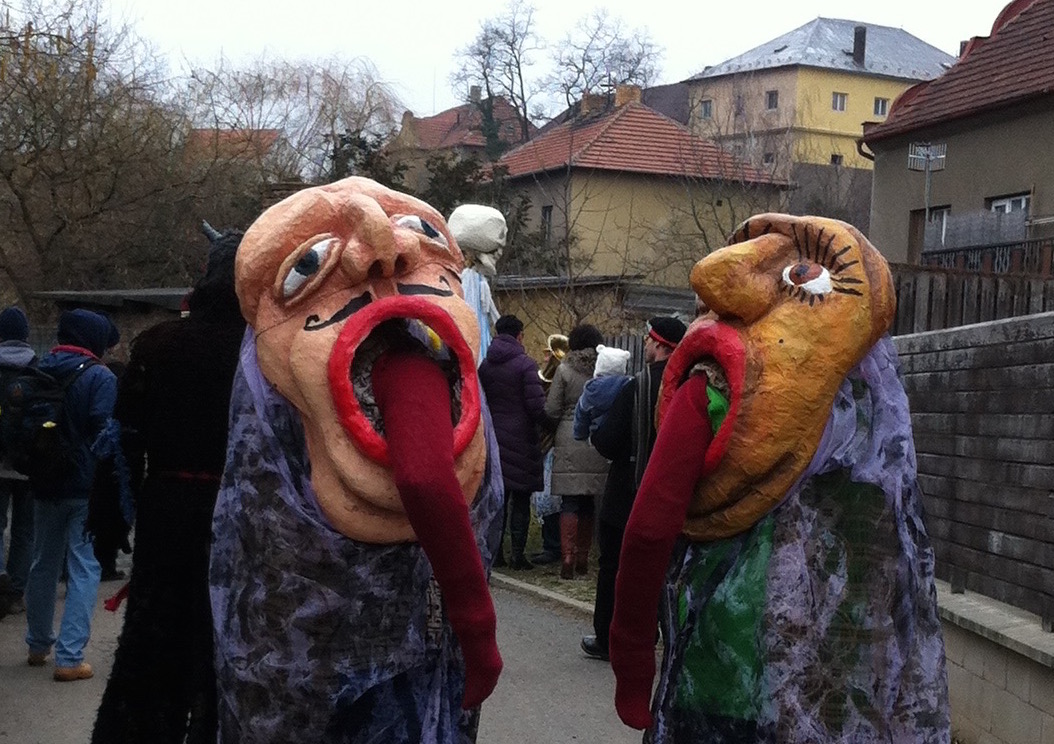 Photo: Carleen Coulter
Wednesday, 15 April 1998
It is hard to keep a diary when everyday is full of activity. Yesterday, after school, I went to Dana's english class and spoke with mostly men from the Let Aircraft manufacturing company about life in general till 7pm. They are paid for by the company to attend english classes and they reminded me of a film I saw at easter. Made twenty years ago, "Marecko Podejte" ( Mark, pass me the pen please!) with Jiri Covak and his real life son playing father and son, is a beautifully crafted comedy. A working class father under the communist system, along with his comrades from the steel factory, is sent back to night school to upgrade. The son, at university who is quite clever, is initially called stupid by his father until the tables are turned. The father, who is foreman, is one of the worst in the class. The visual gags and the performances were enough to keep me entertained and the text is undoubtedly equally good.
These men from the Let factory didn't laugh at the comparison. I assume it must have been too close to the bone.
Today I had classes by myself for the first time. The first four were grade 4 and 3 and then grade 5. If I had been in Australia without the capacity to communicate in english in the classroom I hate to think of my chances. Most went well until I had the big class and Petra was watchdog. I felt her impression was that if she hadn't been there it would have gone astray. I think she is a control freak. She gets too nervous and her voice gives her away.
The children were extremely well behaved… so far. Usually it is half a class of about ten students. ( Easy ) Next time it will be more difficult. Anyway I will teach till I am sick of it or till it's time to stop, whichever comes first.
Martin
Martin is a Goliath of an english teacher. He has two daughters and is married to the only women he ever knew ( in the biblical sense). A true love story. While touring with a band to one of the provincial University campuses on the Austrian border he met a student who invited him to spend time with her. They caught up a month later and then another month later Martin invited her to his cottage in U.H. They have been together now for 15 years. With the two young daughters, this family travelled throughout the USSR on a train for two years while Martin was paid by the state to teach the children of fairground attraction workers families. Initially he trained in music theory and piano. Since then he has written many songs for other groups which I am waiting to hear. I have seen him teach and he is thorough. We have been conversing about what is home, the permeation of American TV and the way electricity and ultimately the inventor of pots and pans is to blame for the problems of the modern world. Martin grows wine grapes, harvests and produces his own wine. His wife says that it is the most expensive wine in the world.
We discussed that the vineyard, with 90 vines, is something he acquired only 4 yrs ago and he didn't want to waste the opportunity to keep it going. Apparently it produces only 60 ltrs of wine and requires a lot of insecticides.
We also talked of how he finds it difficult to kill the chickens and rabbits he has come to differentiate as individual living beings.
As I talked of the Aboriginal totem system he was reminded of a tree from his youth in the front yard of his parents that over the past two years died from the top down. He stands on the sawn off stump now and still feels the power of that plant and the history held within.
The parents of Martin's wife were never educated and are salt of the earth. Martin appreciates their connection with the earth but they make him nervous. Whenever Martin is reading his father in law tries to find him some work to do because he wants him to lead a productive life. For Martin's father in law there is physical work and for relaxation- TV. Martin's children find him hiding behind a tree reading a book when they bring messages from their grandfather who needs a hand with something or other.
foto: Pavel Husnik
Wednesday, 22 April 1998
I'm finding it hard to keep up.
It's a sunny 17°C again today and the weather is up and down between this, rain and 3°C. People get sick in this weather, with the heaters still hot in most institutional spaces like the canteen, the variations between inside and out are quite dramatic. So far I'm surviving though my nose is constantly full of muck which drys in the heated air of my apartment and where I am working.
I want to talk about the couple whose house was under water and their video.
The woman who wants to learn English to speak to her daughter's husband's mother about cats
About the meals in the canteen:
bread and custard, soup, cordial
tomato sauce and a piece of meat and 4 bread dumplings
veal schnitzel, mashed potato, lettuce in vinaigrette, soup, an apple, cordial
Znojmo and the rain at Brno bus station and the conversation with Iva on the bus returning from Znojmo to Brno
the yr3 children who took over my class with songs
"Yellow is the colour of my true loves hair"
Scarborough Fair and Waltzing Matilda
No swimming, too much eating and drinking, no love, no walking, no exercise, no music, no acting, no theatre
Saturday, 25 April 1998
Yesterday I left my keys in the door of our office at school. Dana, the teacher who was still in the room when I left must have known they were my keys. They are also my house keys and at 6pm when I had finished on the internet at the library and returned home I discovered that I couldn't get in, no keys. I went back to the school and found two leathered men playing around on their Harley Davidsons with their two blond leathered girls watching. One is the son of the caretaker, he spoke no English. His tougher looking friend helped translate, incorrectly, and their advice was to come back Pondeli (Monday) when school would be open.
Fortunately for me, there was a school party for the headmaster and at 7.30pm after some fuss the headmaster and his daughter left the town hall with Martin, Darina and myself to walk to his house then to school where hopefully we would find the keys locked in my room. We had tried to ring Dana, in case she had taken the keys home with her but in fact she only had her husbands mobile and no one had her number.
The night was atrocious. In a discotheque at the town hall with loud bad music and people stuck sitting around tables.
Sunday, 26 April 1998
Martin Horke and his wife Darina both blow me away. How to put on paper the words that this philosopher draws from a language other than his own, that is the problem.
The end of the conversation sitting around the fire outside their chalet at Smeradafka was about the fact that it has to be put into words. The problem is that we cant but we must try. With a terrible stomach from the alcohol consumption the night before I tried to catch where Martin was going.
The thrust in the beginning is that we talk to the ones we love and think care what we say but do they. What are we doing? We talk our lives away. If we see everything for the first time and express that as would a child then we don't wait for the ultimate moment we live it constantly. It is all in the constant simplicity of the mundane not in the particular moments of lucidity.
I don't go with the fact that we have to have words to express this. For me the physical sensations are stronger.
I wanted to let fly and headed off in that direction last night with the viola and played with Ivan. This was great because he knew where I wanted to go and helped me reach as close as I was able last night. Today I have tennis elbow and I am now aware of the tendinitis I suffer from playing music in large amounts irregularly.
It's lucky I could come home to my apartment and slowly die alone in peace this afternoon. I feel depressed in this hangover state. Hopefully it will be over tomorrow. I cant keep this up. Perhaps on Tuesday I will go all night to Velehrad to watch the bronze casting of some religious sculptures.
Monday, 27 April 1998
I eat because I'm not satisfied. The more I eat the closer I get to the moment. The next moment is more difficult because I have to eat more.
Martin tells me at this period in his life he has to get up during the night and eat. Apparently he devours everything. The children have to hide their chocolates otherwise they and everything else in the fridge are gone in the morning.
I am not far off this.
It is Sloth, Pride, Covetousness, Lust, Envy, Anger, Gluttony.
From here there is little to make me see what I am doing.
I don't want to be a primary school teacher of english as a foreign language.
I don't want to be alone.
What am I doing?
They want me to stay at school and have offered me the trip to Portsmouth. It is tempting. So far, the work is fine and there are good moments each day. It is when I have to struggle to keep them interested that I get frustrated.
Listening to Czech radio, somewhere between our classic FM and Radio National, I feel as though I wont be able to master this language. The way the words keep changing makes it so hard to hear something to catch onto. The language and the people are escaping me.
When the possibility of seeing Iva was there to look forward to, all this seemed like a fun endurance test. Now it feels just like an endurance test. What is the difference? I would feel the same in Australia and at least I'm learning something here. I said before I left that if I will be a shit kicker then I would rather do it in a place where I can learn a new language and live in a culture that cares about its social and artistic health. Here that is certainly true and it makes me mad every time I think about a town the same size as Innisfail supporting a professional theatre company. Then the fucking Gold Coast can't do it with thirty times the population. It's really soul destroying to want to live in such a place, and yet I do.
I have spent my life chasing girls who don't love me, theatre that wont support me, cities that can't offer me work. Why do I live in this dream? Wake up!!!
see the carved wooden statue I suspect it will be a strange event but with Martin present it will be unusual if it is without humour. He has been constantly saying that the mayor sets numerous projects that he expects others to finish and I was under the impression that the mayor didn't do anything. Martin had said two days ago that he had been carving for two days, the mayor came and spent fifteen minutes and said fine it will be ready then left. I was under the impression that he was all talk however yesterday I saw the final result and it is impressive. The carved images by the mayor are the highlight. Now I see it is a kind of competitive thing with Martin. The mayor listens to Martin and trusts his taste, fortunately, because this event today would be very crass if left only to the mayor's ideas. I think the end is at the pub with the local brass band playing. Darina and Martin said that I may last ten minutes. We'll see!

Foto: DENÍK/Jan Karásek
Thursday, 30 April 1998
A night of passion (Tuesday, 28 April 1998)
Today I should be on a plane to Paris and then Hong Kong and Australia. Instead yesterday I signed a contract till the 30th June. After that I really don't know.
The night before last was the bronze pouring.
After prayers and a priests blessing, the fires were lit and the two ancient steel vats were coked up to reach 1200°C. First with wood, then coal. They used a compressor for air otherwise the whole process is thousands of years old. It was really a scene from a medieval village and this is precisely what Otmar loves. After six months work the neighbours have to put up with these all night vigils where the men laugh, drink and tell stories and from time to time take the molten brass from the fire with steel carrying tools and pour it into clay moulds which have been heated to 600° C. These moulds are dug into sand so that they can contain the pressure. As I listened to stories for the first part of the night I saw men who have withstood something beyond the flesh. Otmar and his friend Tomas had been imprisoned under the communist regime in the early eighties for their catholicism. These statues and sculptures are religious and embody the stories, lives and beliefs of these men. There was something ancient in their faces. They made fun of my not understanding anything but I too took part in this ritual. We used very bad asbestos gloves that were falling apart and there was always the chance of an accident. Two men lift the pots full of molten metal from the fire. The pot is place into another lifting device for four men to pour. I helped in both these carrying positions and it was hot and scary. If you trip or tilt the pots the molten material will pour out and when it hits something colder flies everywhere. Nothing went wrong for us but the time before a man had a piece of this material fly into his shoe and he was in bed for 6 months.
Once poured these strange clay cocoons cool in about an hour and when dug from their sand pits they are cracked open. The results I saw were rough and beautiful with bits of sublime craftsmanship bearing through. They had to have all the earth and wire netting chipped, then to be further cleaned and then polished. Most of this work is off to the Vatican with one special piece dedicated to a 22yr old woman and her daughter from the village, Velehrad, who were killed in a car accident last year.
At 8am the following morning I walked into my flat and tried to sleep before having to teach at 2pm.Luckily I managed to have the morning off. Otmar called it a night of passion.
Friday, 1 May 1998
It's a holiday. International workers day and Beltane. The middle of spring is clearly in the weather here. Flowers are blooming, people are coming out of hibernation and there is a general lifting of the weight of a hard winter. Many people in Moravia had to completely rebuild their lives after the flood last year and this has been a particularly hard winter for them.
Last night I went to see Hradistan perform their annual spring performance. This year it was called O Slunovratu ( Oh Soltice) and was a performance in two halves with music, song and dance about the changing seasons. The full cycle included 30 dancers and Jiri Pavlica's Hradistan Music Ensemble of violins, clarinet, percussion and the cimbal. An extraordinary singer Alice Holubova pushed the show to sublime heights. If you close your eyes and listen to her you will sail to the stars. It is similar to the pure voices of Celtic singers. Senead O'Connor, to my taste, is left far behind these voices.
The dancing was, like the music, all composed and choreographed for the event taking influences from folk and extending them to a new representation that is alive rich and beautiful. Occasionally the work edged on cliche but was soon taken out again by the wealth of contrasting material. The piece was costumed in traditional simple clothes without ornamentation. My favourite section of the choreography was the girl chorus dance with a male dancer representing "frost". They taunted each other and finally frost was banished.
In the background as I write I am listening to a 1994 Hradistan CD called Ozveny duse ( Moravian Echoes). These songs have very beautiful tunes. I always liked medieval music and this has all the flavour of the medieval with something modern in the dynamic. I asked by the camp fire at Martin's last week if they could sing me the saddest song they new. It was Okolo Hradiště ( Around Hradiste) and this haunting song is on Ozveny duse.
Sunday, 3 May 1998
On the train back from Branna I realised I cant stay so long here. I felt that pang for something. Alone in this place where I don't connect to the people even though they are being hospitable to their utmost. It's not a social thing. The one man I have really hit it off with with Ivan and we cant speak together. Martin is a constant source of provocation, power and the ageing process and I hope he and Darina will remain my friends for life.
I have just spent the night camping out in the woods near Branna north of Oloumoc. With a rip roaring cold we were lucky it didn't rain on us. We were in the pub for the couple of hours that it poured. In a secret chasm the large night fire lit this group of tramps led by the captain. Petra is in love with this "wild" life and to an extent it is. They camp out and know how to live like this. For my liking it was a little too much like scouts. Scouts were banned in Czechoslovakia in the late 40's.
These nights surrounding the solstice were called an action and it had a military feel to it with quite a few of the organisers being army professionals. Though they sang music all night it was far from my heart. I didn't feel any of their shared passion. So on the train home I was feeling quite lonely and thinking that I need to produce a one man show called Alone Spiritual. This should contain all the means without words I can muster to explore this sad, wonderful, frightening, empowering, humbling and final state. I was inspired by two things. Franka, the man who did the hardest of the physical work during the bronze pouring at Velehrad and Prokofiev who I listened to this afternoon.
I think this cold is having an effect on my endurance to be here. When I am sick I want to be anywhere else. The problem is that is the same wherever I am.
What is this country like?
Now I have travelled over quite a bit of the Czech Republic and in general there are rolling planes with forests and larger hills every so often. It is quite the same wherever I have been. These are pine woods and not too dense making walking in them easy.
Sunday, 10 May 1998
Getting older too.
A hot Friday May 8th May liberation holiday and in a small cutaway on the edge of Kralovska Vazany there is a 3/4 size football field with banks on three sides from which the ball can bounce back into play unless kicked over into the yellow flowering fields. A tent is set up to sell drinks, mainly beer on tap, and sausages with bread rolls.
The sky is cloudless and everyone is in summer mood. Here on the hills of Slavkov w Brna, Napoleon fought the German and Russian armies. Farmers here still sing french songs. History strikes a chord. What were once meaningless facts for me at school suddenly become clarified in a breath of air and the view of these ambling fields.
This friendly competition was started in 1980 with a group of graduates from Brno, one of whom is Martins brother Tomas. Horky is their name, the hot brothers.
It's the colour coordination in people's fashion choice above all other factors that strikes me the most in the country. Always there are the exceptions but the two days at Kralovska Vazany has highlighted this aspect of popular contemporary Czech culture for me. One tall skinny ( unusual at this event) youth in his mid twenties rode his bike in wearing badly fitting multicoloured fluorescent bike shorts, a mismatched velour shirt and a patch coloured wind cheater. On his feet above the cheap white socks are the obligatory sandals worn round the house for keeping warm. The haircut is the very popular – short on the top and sides and long at the back. This look can be seen everywhere and in Australia. I have kept an old passport of mine from 1975 with a photo of this very style which sometimes reminds me from whence I came. The majority of men from their early twenties upwards have pot guts which they need to hold the copious amounts of beer they consume. Again I am reminded of Australian pub culture in the sixties and seventies. Through all of this there is the cheer squad which all day long maintains a constant revel of football slogans. With a bass drum, their endurance for five hours is remarkable.
At night they sing songs together. Many sleep, including me, on the floor of the same pub which is also the town hall.
Martin, his brother and a group of six others have never missed this event. Only one year has it rained. This year the weather is typically perfect and we were all sunburnt by the end. The meeting is a chance to catch up with old friends. These men talk and talk and they understand something way beyond where I am.
They meet now as they near becoming grandparents. I am only a couple of years younger, alone, with no children. These men have children at university, married and fully grown up. The shock of this hits all of us and this year neither Martin or Tomas play. Though invited to play I wouldn't as my ankles are bad and the field is not smooth. In fact there is no need for us to play as the sons who fill the places are more than adequate.
My body is giving out but I don't yet feel the age that I am. I'm getting older too.
Monday, 11 May 1998
Karel Plihal is about my age with a slight pot gut. Dressed in jeans an old grey T-Shirt and walking boots he played an acoustic guitar double miked. On the stage of the UH cinema (club mir) an audience of about 200 were engrossed with his presence. He reminds me of Chris Bailey, less demented in both looks and music. Plihal is a great solo performer. His guitar and light voice blend together with text that had the audience laughing for two hours, unfortunately I don't understand a word. Though I'm ignorant of the language I can easily see how simple, direct and good the music is. The song with Bim Bam in is what I want to learn first.
Foto: DENÍK/Jan Karásek
Wednesday, 13 May 1998
Yesterday I saw the results of our casting in Velehrad as Tomas gave us a tour of Otmar's atelier. I have photos of the night's work as my proof. The other men who stayed till ten in the morning have medallions as well. Because Martin and I left at 7am to go to work we were not given such an award. I t's funny how there are thoughts that cross rational territories. I was just thinking about Gethsemany. Otmar Oliva is a great artist, personality and fervent catholic. His gold and bronze statues are rich symbols of the wealth of this institution. One lead statue ( poorer because of the subject matter) is of a minute saint who lived his life in Padova in a confessional. During WW2 when bombs destroyed everything around him his confessional stood untouched with him inside. Today he is a saint with all the palaver that involves, including commissioned works of art.
Otmar continues on a religious pilgrimage through this art/craft that has been existent since we discovered how to melt metal. What a process! Velehrad is in the middle of this tradition. The wood in the Velehrad cathedral is ancient and highly inflammable, smoking is forbidden. Up in the bell tower, the floor is a meter high covered in cigarette butts. They are from the bell ringer who lives in the insane asylum, part of the church grounds. Left as a child by his parents fleeing the Nazis during the war, he has no name. This unnamed man has never left Velehrad. He drinks beer at the same bar in which we have been with these artists and writers and by all accounts he is quite sane, excepting that his entire life is spent ringing bells. Bells dragged to the top of the towers by oxen which climbed temporary earthen ramps to reach the top with their vibrant load where they were rewarded by being slaughtered. Everything built in this town during the communist period ignores this monument to grand faith.
This town is fascinating for many reasons but I know of it mainly because Martin and his family live in Modra ( blue) the adjoining village. It is a five minute walk.
Friday, 15 May 1998
Walking home from school today I was feeling quite lonely. I had a ruhm tea with Martin and Zorka after school for the Zorka english conversation lesson that was thrust upon Martin and I. Some people here want their english improved and have not so subtle ways of communicating it.
Then I arrived home to find the Sal survival package. Of course the vanilla lollipop went straight into my mouth and when I heard "Landslide" first song on the compilation tape, tears came to my eyes. I don't know why that song affects me so. Like that, it is. Then my hot water is working again, the temperature has dropped back to about 14°C and my cold is lingering.
These problems of location are important.
Last night I heard some of Miluska's story. She has a sixteen year old son, Lucas and the outside appearance of mother and working wife in a successful family. The story is dark and scary. As you read this you see I am in a dangerous position being so new to the scene and knowing already from Miluska these kinds of details. I will not stop her from talking but I can't get involved in any way.
Tears in my eyes again as I hear "Chocolate… strawberry!" and the voices of Tess, Cel and Sal. This excerpt from some time last year when the children were with us in our Mainbeach apartment is wonderful. What am I doing so far away?
I don't really understand it myself. I guess I don't believe in our society. I feel no place in it. That doesn't mean there are no people I love. On the contrary, there are many people in Australia I love dearly including my family.
Martin says… I have been trying to think of what I was going to quote from Martin but the meaning has slipped away into a vague haze and I wonder if I understand anything about anything.
Sunday, 17 May 1998
From cappuccino come the Capuchins who lay their bodies to rest, permanently, for all to see in their catacombs in Brno. This is a formidable reminder of what is in store for us all. Within, a sign states " What you are we once were, what we are you will be". These Franciscans have 45 dried bodies that I visited and was prompted to liven upon seeing them. I have some kind of flu and was feeling ill before I went into the catacombs but felt a good deal better on coming out. Also there suddenly seemed to me the necessity to get moving, forget about myself for a while and live life as well as I can
Brno is the city, more than Prague, that drew me to Europe again. Walking the streets with Dasha and her husband Petr I half expected to run into Iva. We didn't and it saved any embarrassing stop to make "pleasant" conversation. It's out of my control. That is the way the fates run.
On the way home we stopped off at Austerlitz, or close by, to see the memorial of the battle in Dec 1805 that Napoleon won against the Austrian and Russian armies. 28,000 men died on one day between dawn and when the battle finished at 4pm the same day. European history seems more tangible at this distance. I remember at school these dates and facts would never stick in my head. They seemed so unimportant at the time and I think to a large extent for Australian children they are, when we know nothing of our own Aboriginal history.
Today I have been in bed most of the day trying to get over this cold. It's lingered for more than two weeks now and it's annoying.
Friday, 22 May 1998
Walking along Svatovaclavska this morning on the way to school I was coughing up piles of green phlem and hoiking them into the gutter. I was also hoiking up basic principals of love. If I want someone for the way they look, the colour of the hair, the size of breasts, the curves, their body tone, their dress sense, the way they talk ie. indication of level of education. then its all for nothing. For how long are these factors enduring?
As I was talking to Martin this afternoon he was telling me at University how difficult he found it when the girls around him started talking on a familiar basis with the same lecturers with whom he maintained formal relations. From vy to ty basically meant special relationships. Five years of this behaviour. How many years have I been part of this mentality?
But I found "the love of my life", she left me and I painfully discovered that everything I thought I believed in was not only in fact wrong, it was completely fake and stupid.
There are no principals that work for me. I see no one who can show me by example how it should be. That doesn't mean that I believe relationships are unimportant. My experience leads me to believe fucking around leads to the loss of life force. What to do?
Some serious nightmare last night where children were tortured and booby trapped has put me on edge. I am actually quite sick as well with the flu and sinus that's giving me nausea and dizziness. Last night in this dream it was my responsibility to let people know not to go through the school doors on Monday morning, into danger, but I kept being waylaid with menial tasks and would forget. My position in the dream was fairly reprehensible but it is the reality with which i dream both the actual physical and psychological torture that scares me. On waking I was completely disoriented for about ten minutes. When I got up I almost fell over. I started antibiotics last night which I am worried about but because I had pneumonia two years ago I don't wont to go down that path again.
Did this dream emerge as a result of my taking the antibiotics or the cheese that I ate, or my general mental state or something in the stars? Perhaps a little of all these which made it so powerful.
I think I was here one week while the plants were bare. Now everything is in full bloom and its hard to imagine that for six months the place is barren. It is quite beautiful from my window looking into the children's school playground which in the last few days has acquired a large wooden log train, wooden log huts, wooden log swings and a sandpit with sand. Birds chirp constantly in the trees and shrubs laden with greenery.
Katka, a young German and English teacher, is taking me out on a surprise tonight. The car will pick me up at 8pm. What does this mean? I am worried because I am not so well and I do not want to end up outside. It is cold again today, down to 5°C. Katka is very military in her actions. She leaves me no choice and has little feeling for what I am interested in. She is hard to talk to so I have no idea what drives her. This is going to be difficult, I know even before it starts. Why did I accept her invitation?
Sunday, 31 May 1998
I don't know why I am so reluctant to return to this journal. It has been ten days of dizziness. I feel the nausea I imagine you feel when you're pregnant. So hopefully the 6 day course of antibiotics ( Duracef) will give me prolonged endurance, resistance and health. I have no desire to add my lot unto the world pool of antibiotic dependant weaklings fostering virus resistance which will one day send new plagues to wipe us out in large numbers.
Again I wonder what I am doing here. I can't last like this. When there is no music or theatre in my life I am unhappy. What can I do? Theatre is my life and I cant find my way to do it. What do I need to do?
I am desperate to find a way of life that makes sense. Teaching makes absolutely no sense to me at all.
I have "gained" 5 kgs. This is because of my obsession with eating when I'm bored. The sweet things here and the beer are too much temptation. When I am bored I wont write, read or exercise or practise music or theatre. All I want is to make love. Eating is a surrogate for affection. Drinking alcohol is the second and sleep is the third. All is a vain pursuit to fill the gaps between when I can really be intimate.
I spend more than half my life dreaming about hypothetical possibilities. I know well what a waste of time it is but my brain is on its own obsessive path. Perhaps if I had a clear moral code that made it clear for me what to do then this would not be the dilemma that it is.
Observations of events that I have been involved in in the last week.
Hradistanek are extraordinary. From 4 to 16 years of age these 200 children danced, sang, played games and music with the delight and precision of their grandparents. The folklore songs are rich and the dances full of fun but the children's games with Carl Orff type overlapping rhythms I found remarkable. Their costumes are beautiful ( not overly ornate but retaining a strong village feel) and the cimbal orchestra was very good. Watching young boys play violin and sing, sometimes simultaneously, makes me feel I was born in the wrong country.
Today I was at Vlcnov for the Ride of the Kings, which was sad because it is dying. The last man in the village who repaired costumes has said he will no longer do it. The rain may have had something to do with the dampened atmosphere but I think this kind of tourist attraction has put the nails in its own coffin. However there was a very interesting Slovak dance group.The opening was quite strange dancing around a fire and then the boys danced fighting by placing their hands behind their heads and using elbow to elbow. They also rolled down together and then did the mexican hop over each other. They ended up lying with girls as though they were in a forest or field.
Czech sweets are better than the super rich Parisian pastries. The variety is superb. That's another 2 kgs.
Yesterday I went to Martin's to write a song for the end of school. It is called fisheye. It was hard going because we weren't sure where to start. It will be a round.
On the way to Modra I stopped in at Stare Mesto to Misko Evano's and saw some of his paintings while listening to old Bretagne songs on vinyl. Dreams of Moravian folklore in a beautiful world, I like many of them.
Oh yes! When we came back from the theatre on Wednesday night my pink bike, Miluska's bike, which I had parked outside her place had disappeared. Luckily for me it happened there. The next day Franta, Miluska's husband, went to the pawn shop to ask if they knew anything. They did but wouldn't give names only to say that the Cigane (gypsy) who brought the bike in was coming back at six. Franta waited at six for the Cigane but the man returned with a different bike. Franta asked him where his bike was and the Cigane said that he had sold it. Franta asked to whom he had sold the bike and discovered that the buyer was someone he knew. Straight away he went to the place and on recounting the story had no trouble retrieving my pink bike. Franta also has known connections with Cigane.
At school I have translated an English translation of a Czech translation of Twelfth Night. It was not easy and I am yet to see the result. This is for Dana Kopsivova ( her name means nettles) and her 9B's who will perform it in an english speaking theatre competition in two weeks.
Then there was the trip to Western City with Grade 5's. Oh for a tale of cowboys and Indians and woe. When one of these "Indians" was asked if any of the troupe had been to America to meet with any Indian tribes his answer was that there was no need because the level of their degradation meant there was nothing to be gained from such an experience.
The cowboy show had no humour and what they thought was funny was doing a mock version of a lasso act that in its original state was only just passable. All in all a strange experience. They also very violently shot each other for the children's show. Fortunately the children could see how bad it was.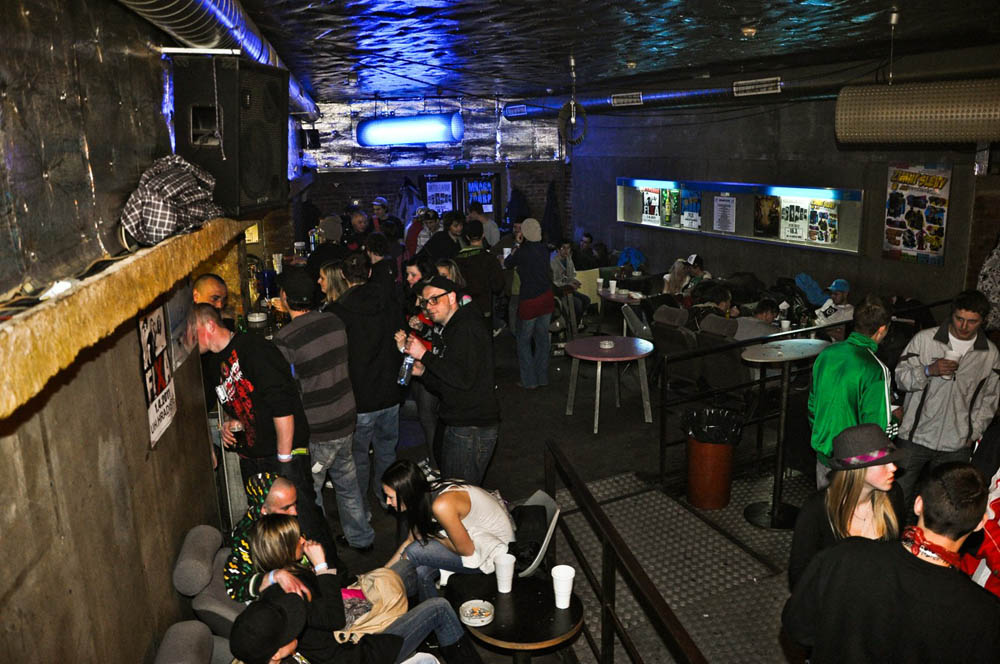 Friday, 5 June 1998
Last night at Club Mir I saw theatre students from Brno's DAMU ( Arts Faculty at University). Their devised piece was called Sururove Realisticky Vecer. It reminded me of the best of Rusden (now Deakin University). In fact they are training to be drama teachers. Their piece was set around a table and 8 of them teased each other for 45 minutes. It was the best theatre I have seen here to date. They are not acting students and therefore are not stuck with all the problems "actors" carry. They played the whole time. Afterwards I went back to Michal's place and sat around a fire with these students until 4am. Bob, his brother, has an old Vlasta Redl ( one of the best Czech contemporary musicians) guitar which is the best I have played. It sings of its own. Martin had been talking about Bob for ages and had actually already given him my CD so this chance meeting was fortuitous. I only had on a short sleeve shirt and by 4 am the temperature was down below 10°C. Then I had a 25 min walk home. It was worth it.
Today I realised that my life has always been one of moving. I am a gypsy. I was brought up that way and it is my nature. Where are my own kind? When I find them I will find home. Or maybe I will not find "them", for it is only an idea. I see patterns with children at school and I am not at all surprised that I had so many problems with "it". I went to 5 primary schools and three high schools. You can't move the way I was moved and survive the system. The system is not coherent. Each place, each school is different and has its own criteria. To constantly change is to be left without clear boundaries.
Now I have either to reconstruct and create a life's criteria or find a culture that has the same moving conception of life incorporated.
Wednesday, 10 June 1998
In my view a drifter is someone who takes everything that is thrown at them without making any choices. The gypsies search is for meaning. This search has always kept gypsies on the move. They have been persecuted for it, like the jews. If you hold onto beliefs that the general society don't follow you are in danger. Here is a dilemma. How can you grow a garden from a caravan? This and other problems to do with being on the move I have yet to solve. I strongly believe Bruce Chatwin's theory that the death of civilisation comes with sedentary behaviour. This is not to say there is no place for a permanent abode.
Today I walked to Buchlov Castle with the students. Till today this castle had remained a mysterious silhouette on the top of some hills 14 klms from Uherské Hradiště. Here history from the 13th century stared me in the face and I was exhilarated and afraid. Today I saw clearly that we are powerful, intelligent, industrious, imaginative killers.
How do we live with this knowledge?
From what I see in the Czech Republic there are many values I would like to follow. People have small gardens in which they grow vegetables, strawberries and other fruit. They have chickens, rabbits, pigs and other animals which they kill for the table. They have wine cellars. On occasions they celebrate with ancient customs that are mad and wonderful. Women are far more involved in the domestic side of life than in Australia without the feeling that they are any more or less discriminated against. The most powerful person in the family structure seems to me to be Babichka ( grandmother) and there is respect for this.
With the influence of the free market, which means American style advertising and TV overdose all these values are disappearing and they will soon be like Australia. It is how Australia used to be in the good old days and they are fast heading in our shallow direction.
What it makes me believe is that somehow it's necessary to retain contact with the food we eat. I want to celebrate the seasons and birthdays and namedays. There must be an Australian way to profit from the land without destroying it. Perhaps permaculture is a way and certainly by trying to discover Aboriginal tribal knowledges. Then how to find work that is important and that doesn't eat up so much time that there is none left for family, friends and simply to be human. People in Moravia still have time to stop and talk to one another. Maybe these small town values exist worldwide. I hope so. Anyway I like the way teachers nip Ślivovitsă ( Plum distillate) at school. I have had a few with the Deputy Head in her office. They are not drunk, it is a way of life. Imagine doing that in Australia… Front page dismissal!
Saturday, 13 June 1998
Tonight I am off with the gypsies to listen to their music. What will happen?
Cigan
Sunday, 14 June 1998
I now know my first film. It is about border restrictions. Maybe it will be called "Frontier".
So why ais I so sure it is my first film? That this will be made. Because I am so fed up with being an alien Australian that this is one thing I will do, finish I mean, in my life if it kills me.
Last night at 6pm Misko, the French artist, rang me to ask if I wanted to go to a Cigan party with gypsy music and dancing in Trencin about 60 klms from here. So I got ready and had a bottle of Ślivovitsă in my pocket. Misko said bring your viola and passport. It was raining and the mist was thick in the hills as we drove through the Czech countryside towards Slovakia. We arrived at the border. I passed through Czech customs but I couldn't go into Slovakia. I needed a visa. I had been under the impression from Miluska that I could go to Slovakia for a day without the need for a visa. Wrong. At the border it would cost me 2,000 krs for a visa to Slovakia. We turned around and luckily Miluska lives in Barnov, half the distance back to U.H. So they took me back to Barnov and I discovered there that when Franta and Miluska had invited me to go to Slovakia with them they were going to pay the 2000 for me. So I thought fuck it. I'll pay the 2000 for a night. Who knows what will happen. I got back in the car and we headed once more back up the hills to the Slovak border. Then on the way ?called for the day ( half my take home wage for a month). So I thought fuck it! ght. Who knows what will happen?
Miluska said that if there were any problems she would come and pick me up at the border. I remembered that I only had a single entry visa to the Czech Republic. It had slipped my mind when I decided to try again because I wanted to go so much that I still believed there was some special arrangement for 24 hrs. My rising fears were confirmed when we got to the frontier. Not only would it cost me the 2000 krs for the Slovakian visa on top it would be another 1500 krs to re enter the Czech Republic but I would then have only 5 days and would have to go to Prague to renew my status. There was no way. I stood protected from the rain in the sheltered entrance to the border office with my viola and waited for Franta and Miluska. When I got back to Barnov, Franta watched a video. I had seen "The Peacemaker" on my flight over and it made me nauseous. Luckily this time it was in Czech so it wasn't quite as bad.
When I spoke to Martin on the phone this afternoon he said it seems everything is against me staying.
This is what it means to be Australian.
Friday, 19 June 1998
This self indulgence is so immature. At this stage in my life I should be doing stuff for others instead of being self consumed with a quest for a partner.
I am much happier when I am working. Maybe I should be a priest. The only things stopping me from joining tomorrow are the commitment to abstinence and the fact that the institution has fucked and pillaged everything in its path for the last 2000 years.
My hankies are falling apart, for six weeks they have been constantly sodden. Right now I am having another burst of irritation. If its another cold coming on straight after the last which hasn't quite gone then I feel like giving up. If it is more allergies then it is destiny saying go, get out of this place.
Archeoskanzen Modrá
( American) Sunday, 21 June 1998
Getting close to the end of my time here. Now they know I am going and I was expecting it to be harder with people disassociating themselves from me. Perhaps that will still yet happen.
World Cup is filling the news in front of the elections here where the Social Democrats won 32% of the vote and now have to scramble to pull together allegiances to form a government.
The weather is still up and down ranging from below 10° up to 30°s. It's hard to deal with. The pollen in the air is making life hell for me. I am constantly rubbing my eyes and I have developed a very special relationship with my two hankies.
This afternoon I am off to Modra to see Martin and the local mayor and others erect a carved wooden totem pole based on old religious poles which could be seen in fields and by roads till this century. It is a marker for the edge of the town of Modra and a symbolic gesture for the commencement of the reconstruction of an old church which is at present but a few stones. I suspect it will be a strange event but with Martin present it will be unusual if it is without humour. He has been constantly saying that the major sets numerous projects that he expects others to finish and I was under the impression that the mayor didn't do anything. Martin had said two days ago that he had been carving for two days, the mayor came and spent fifteen minutes and said fine it will be ready then left. I was under the impression that he was all talk however yesterday I saw the final result and it is impressive. The carved images by the mayor are the highlight. Now I see it is a kind of competitive thing with Martin. The mayor listens to Martin and trusts his taste, fortunately, because this event today would be very crass if left only to the mayors ideas. I think the end is at the pub with the local brass band playing. Darina and Martin said that I may last ten minutes. We'll see!
Saturday, 27 June 1998
It's a question of authenticity. What is the real folklore? What is really from the heart and what is an attempt to be popular? Last night I was in Straznice for the 53rd annual international folklore festival. The Italian group from the south who we saw on Thursday at Club Cultury were the least inspiring. Their costumes look Spanish and they obviously get around on the fact they won best costumes at some Greek folklore festival. Also there were Mexican, Korean, German and Polish as well as local groups. But by far the best were the Slovak group from Bratislava. There is something mad, wild, unquenchable about their music and dancing. They are wonderful performers and always break away from the expected while retaining the traditional dances. The audience showed their appreciation for them as well. This is a three day international festival and normally the music carries on till the morning after the organised program finishes at 1am. We left at 12.30am because Franta ( Miluska's husband) was bored. I didn't say anything. I couldn't really ask them to stay longer for me and I didn't want to be stranded 40klms from UH at 3 am. At the festival I bumped into Misko who introduced me to a French journalist and his wife who have been going to this festival for 30yrs. He had been to Australia, climbed Ayers Rock and visited Mt.Isa. He had a pretty good idea of what Australians are like. Americans! tonight one American was on an internet computer with her Czech boyfriend and there was a problem with the server. I couldn't get hotmail because the cafe obviously had a poor system and at 10.30 pm here, Saturday daytime in the USA the net may have been at peak load. This Czech boy was trying to help and turned to the girl who listened to what he said in Czech. She took it in, looked at me and said "Yes!". I could have killed her for the smug attitude she had. I am really vulnerable as a non speaker and it is just this kind of attitude that really gets up my nose. Today I was with Hanka the cousin of Miluska at a small village where the household spoke only Czech. For me it was a very good day. For them I don't know. I think perhaps I was a burden. It is rare for me to be with non english speaking Czechs. This means my Czech doesn't improve from necessity.
after midnight on Thursday, 2 July 1998
After 4 solid hours on this computer I'm not really feeling like updating my journal. But if I don't do it now it will slip away… Yesterday I was supposed to have my haircut at 3pm. At 2.30pm sitting in a cafe with Martin I once more talked of my interest in meeting the director of the Slovacké Muzeum to talk about masks. Suddenly Martin sprang to action and we were around the corner in a workshop of the museum where a friend of his restores old works of art. Lida Stefankova is infamous for planting three fake artefacts in the middle of a Hradiště reconstruction site which when discovered last year caused a big fuss in the Czech archaeological world. Only two pieces were found so there may be more to come. On the walls of her workshop hang five beautifully crafted seemingly antique full face wooden masks- two devils, a rooster and a couple of old men. However they are recently made by a friend of hers and she painted them. From here at 2.45pm we were envoyed to the museum where half an hour later I was still looking at a huge collection of mask folklore photos. At 3.45pm I finally managed to get to a phone to apologise for being late. For this effort I now have a large bibliography of written material on masks in this region ( all in Czech) and a number of photographs catalogued that I can get copies of when I need. So the idea of completing some post graduate study or a documentary on mask has once more become appealing. My haircut still happened and I have returned to the grey from whence I came. I apologised to the demure hairdresser with one of the beautiful flowers I was given yesterday from the children as a farewell present. It worked. All teachers and students dress in their best clothes and the teachers are showered with gifts on the last day. I was also given a Misko Evano crayon drawing, to my great pleasure, from the teachers. It's rare for me to receive a present that I really want because I only know what I never dreamed of having after the event. This in particular was a great and touching surprise. The day would have been a tumultuous affair but for one problem. At 8am I had to be witness to my efforts that were mounted half cocked yet again. In the culture centre opposite the school the gr 9's, whom I like a lot, re did their Twelfth Night debacle for the whole school and apart from Anya's guitar playing and Tereza's showmanship it was again terrible. I couldn't tell them that. At the end I had to take flowers on stage for my work and then sing "Fisheye" with a group of gr 7's shoved up at the last minute. It was terrible for us all. A month ago Martin asked me to write a song with him for the departing gr 9's. We tried to write together and it didn't work, so he encouraged me and I wrote it basically by myself. Then I started teaching it around the school and many children knew it but there was no final orchestrated effort to form a choir. I couldn't do it because to organise it needed Martin. I was made to feel like it was all me being placed centre stage on this final day. I should have gotten off the stage and if done at all I should have sung it with all the students sitting in the auditorium. However for a moment I was suspended in time because from the mouth of a 14yr old Czech girl, Tereza who played Malvolio, came the most touching words as she handed me flowers and gave me a kiss for my work with them. She stood very close to me, looking down with a kind of regret speaking softly and took the time to say quite a bit. I was entranced. So it was in this kind of daze that I let the song follow. Most of my good ideas happen after the event! Martin really put me in the shit there. I guess I must be used to it. I had forgotten till now that this happened only yesterday.
Fisheye (a song in three parts to be sung together as counterpoint)
1 ( all ) Sing and dance fish in a tank Swimming towards the sea
2 ( boys ) Into the blue surely make your own way Over the shelf to the depths
3 ( girls ) In all of space there's none like home
When you're tired and sore
Home is always there for us
Wealth is precious lore
Miluska shouted me, 40 klms from UH, dinner in Zlin last night. In a Mexican restaurant, I downed a couple of Margaritas and we ate so so enchiladas and very garlicky guacamole. It's hard to know whether it was made from avocado or something else green. I'm still wondering from where this "avocado" came and I rapidly skipped over their octopus and crab selections. If I had dared it would have kept me pondering for days imagining how they arrive here and in what state. So on this part of the voyage I discover that there are ways and means to survive in the Czech republic which are quite different from the world I know in Australia. I guess I'm just naive. Today, again, I was spoilt and taken to lunch at a local UH Pizzeria. From 2.30am till 6am this morning I was up writing the new idea for my mask thesis or documentary. Now I have to sleep again. It is 1.40am. Time is strange for me as I wake at the oddest hours. Often I think I'm on some kind of internal world rotating clock. I feel tired in the afternoons and evenings and often I am wide awake at 3am. Maybe because I didn't jet lag this time I have never adapted.
Friday, 3 July 1998 12:48 AM
Earlier today which is in fact yesterday I went with Martin for a walk to the end of Svatovaclavska and down to the industrial zone. We were looking for a furniture factory where we would find a very special fire stoker, Frantisek Geviera. We walked to the end of the street and found nothing so eventually Martin said that he didn't want to look stupid not knowing where he was but that he would ask. We were helped by a doorkeeper who stepped out into the middle of the road with us and took three minutes to explain that the factory was around the corner, two hundred yards away. Walking into a huge complex which looked more like a timber yard than a furniture factory we asked directions where to find Frantisek Geviera, the fire stoker. After three attempts we saw in the distance between some wood stacks a short stout man who had on a whipper snipper harness. As we approached it was clear there was a different world here. Frantisek Geviera in his 50's was four days unshaven and had yellow plastic ear plugs in his ears. When Martin spoke to him I fully expected some gruff sound to emerge from this body. Instead he was deft and softly spoken. He didn't remember Martin at first but soon cleared up the connections. Martin was offended that he was so unmemorable ( of course he isn't)and said afterwards he would have to do something about it.
It was quickly agreed that he would meet us outside his dwelling tomorrow at 3.30pm. Martin asked Frantisek Geviera if he had a bell downstairs we could ring. Frantisek said that he used to but people kept ringing it so he disconnected it.
Behind this rough round exterior are strong blue eyes that sparkle and a remarkable presence which emanates from his movements, tone of voice and attitude to life.

I discussed with Martin on the way back home how this man is part of what is the ongoing living cultural tradition. He makes masks and wooden objects because he is inspired to do so. It is not for money, it is not academic, it is a passion that occupies him. As we drank Mattoni in a new pseudo Mediterranean cafe in the centre of UH I realised that part of this project is to establish a clear base. What is tradition, culture, art or lore? How is it passed on? Who are the keepers? How do we find our way back? Afterwards I took photos of the 5 masks in the art restorers workshop:
2 Devil Masks, 1 Fool, 1 Rooster and 1 Old Man.
There is a great deal here to discover.
Tonight I have been spoilt at Dasha's place with fruit dumplings (knedle), slivervitsa, spek and zmerzalina. On TV we watched a Bud Spence and Terence Hill film set in Rio then a very violent Hong Kong mafia film. I have just ridden home from Kunervitsa on the bike.
Saturday, 4 July 1998
France beat Italy on the last penalty. What a game?
After going to Frantasek's home with Martin, which I have videoed, Club Mir was the bar with a TV. We sat and watched this game that went on and on. A four beer match drinking very slowly. Afterwards I came home was there for ten minutes to drop the video camera off then back to Mir to watch Denmark and Brazil. I didn't quite catch the end because there was no room to see and by that time I was trying to converse with a potential young Czech actor. This is the end.
Now I have to pack and get ready for France and Australia.
I really am suffering the three month homesickness attack. I know it fades but I am feeling quite out of my territory. Perhaps this is the barrier that needs to be passed to begin really learning. Till now, from my point it is little better than being a tourist. If I am to learn something here I must pass this point.
Sunday, 5 July 1998
After packing my bags and getting ready to go I am again in Barnov. Tomorrow Miluska and Franta are taking me with them to Vienna and on Tuesday to Prague. Lucky because I have so many bags that it is very difficult to move without help. Last night I spent with the Horky family in Smeredafka and we sat around the fire, drank, ate spekacki and played some music. There was a late fruitless attempt to teach the African song. I would have done it earlier and tried at a certain point but Martin said wait, so I did. By the time that he thought we should try there was no chance so it was the second time that it was left too late. This is a good lesson for this kind of organisation. It takes time and patience.
Then the man who was most problematic was going to stay the night with us but he ate the leg of a grasshopper and offended Darina so Martin and Ivan helped him down the hill and home. Darina worked on my arm and it felt better. We discussed Yoga and Permaculture and agreed that there has to be a way to self healing.
This morning I was reading Herbert Read "The Meaning of Art" and talking to Martin about this project with the three mask makers. Constantly the mayor of Modra appears as a figurehead of hope for a return to traditional values. This is our only hope. We need a connection to the land, the seasons and the people, plants and animals around us. It made me think that now in Australia we must Its the question of the whole way of village life compared to city living. How do we find the way back? It is now possible to see on TV in the Czech Republic, someone talking about their ideas and life for 45 minutes. This was not possible 10 years ago. Three 45 minute individual episodes + one with them together would be ideal. Back to TV and a lifestyle that asks only contemporary questions of survival. How to have enough to have the modern luxuries. This is for me ""in fact offered to try with the state everyone was int
Then it rained and the night was almost over. It takes time and patience and to be sure that I want to do it. Forcing these kinds of group singing projects is the worst feeling. It is simply not worth it. It always happens that "the few" can kill it.in eating he managed to offend were obliged to helpback in the rain rina worked on my arm and it feelsHe also talked bout a german book called something like "Games and Life". in our discussions who drives with I too believe this clear have survived long enough as a virtual European colony. We be prepared to move on and touch the earth, change our cultural practices to fit in with the seasons, land and try to understand why Aboriginal cultures have adopted their customs.. How do we find the way back? For example episodes + one with the mask makers
I better work out why I want to make this doco and if this kind of information spreading is coexistent with a harmonious lifestyle for me, for the mask makers, for those involved in the production and for those it is made for.
Ritual celebration is the lore that holds this knowledge and wisdom together.
' together would be ideal to explore one way of searching for a return. These mask makers are all scratching the surface in this work because their masks are largely ornamental. It is this process of searching backwards from mask as wall decoration, to tool of entertainment, to symbolic signifier that helps deeper understanding of what and who we are. These men work at a plastic level which is highly connected to ancient practices. What they are missing is the work of mask porters with the same dedication to developing these practises manifesting their power as communicators of a larger wisdom.
If I work with TV I work with the enemy.
Thursday, 9 July 1998
Today I finally met with someone in my field. And he is fantastic. If only I been able to make contact sooner. Jan Borna invited me to go with him to see his students work for a performance in a disused cloister in Zlata Koruna a beautiful south Bohemian village 7 klms from Cesky Krumlov. They are there from the 16th to the 29th of July. As I write this I am seriously wondering if I shouldn't cancel my ticket to Paris and go next week. I guess I have about 30 minutes before the Air France office closes and puts this possibility to an end. In the background I have the TV on watching Heartbreak High in Czech and before there was Pacific Drive. The difference is astounding. Often the dubbing makes it better because the voices are very good. Nothing can save Pacific Drive but it is amazing to see the Gold Coast. If there were a proper series ( with a real script and commitment to good acting) made there it would be huge. I feel that this world of TV is controlled by people who are basically scared of anything good. In case it is out of their control.
4:37 PM to "Gold Crown"
6:37 PMSo I have called everyone ( 3* 150 kr phone cards) except Jan Borna and have decided to delay my departure for at least 10 days and probably till the 30th July.
This is the reason I came and this is a special opportunity to see how they work at close hand.
Jan today was talking about the change in the theatre system after the revolution where a new school at DAMU was set up to explore alternate theatre modes to naturalism including puppet and mask. Jan has a group which he takes through the whole 5 years. At the moment this group has just finished their third year and are part of his family. They are the ones who will be working in Zlata Koruna.
As we talked quickly I can't remember most of what was said but some poignant parts were about the mad jewish element still existent in Brno theatre which is part of its humour. How Jriho z Podebrad is part of Vinohrady which separated as an independant town from Prague in the 1920's. The Church at Jriho z Podebrad designed by a famous Yugolosav architect is the prominent feature and this particular style of architecture the communists hated. They built nearby an incredible space age cartoon radio tower over an old jewish cemetery. Under communism the theatre thrived but the freedom was terrible. The theatre for the Czech people is important because it gave theI asked how the vision was formed and said a group of them sat round and discussed what they believed to be the wy to go. "Perhaps there will be a new generation who will say they were wrong" says Jan without any sense that he has something to protect.
We both agreed that Brno is an ugly city but apparently below the surface there is a strong and vibrant cultural voice; unique language a voice at the beginning of the century when previously French, German and Hungarian were the main languages. Actors were and are regarded as special. Now with the influx of western values there is a struggle to find which way to go. Jan's company is very successful so they have tried to go bigger but he said to me he now feels this is a mistake. Theatre is about intimacy. Large theatres cannot help but destroy this.
We arranged to meet at metro and I had 15 minutes of guessing how his voice may match his face. I knew only that he had short hair.
In 15 minutes waiting in the foyer of WorkPlus-InterStaff in Prague where I was supposed to meet Norman, I instead overheard their American account adviser telling them one of the ways to ensure good productivity was to employ only Americans. They take in 11 million a year. He advised that for every crown spent they must be making 3. And they only spend 33% on wages.
I couldn't stand it any longer. I only know what Norman sounds like.
Wednesday, 29 July 1998
The next section is when I left my computer in Prague and went till today with only notebook and pen. At first it was hard to write by hand again but I think the two ways of getting words down are equally useful.
Tue 14th July
I can't write. There's a complete blockage here in Jesonike. Victor a 4yr old has not come home with his father. Anitcka has no access rules in their divorce settlement so the problems are about to escalate to another level. Miluska has just taken Anitcka to see her lawyer 36hrs after the boy was supposed to be home.
Stories of villainy and betrayal are terrible at this end and this man has used his wife for 17 yrs and now dumped her once she has paid his way through his military service two children and an engineering degree. As a teacher Anitcka would earn maximum 9000 kr a month.
Last night Miluska and I went to a concert of classical guitar by a father and son duo at one of the health spa's. Pleasant!
Yesterday I sat with these three women ( the other is Kristina- Anitcka's 15yr old daughter) on the Devil's stones and looked out to Poland. Another country closed to me without a visa.

As the wind hurtled through, the clear day made this viewpoint central for me. Central Europe and central to feeling far from home.
In the middle of summer it is green, lush and beautiful. As I write now there is rain pending and our trip up the ski slopes I think may not happen today.
In the background the Babicka has arrived with dried flowers, mulberries and wild strawberries. As she talks to Kristina, the wisdom of these people and her generous eye so Kristina, the wisdom show something very special about these people.
Because this young girl is in an environment where she has to do it herself she has no hesitation in playing the piano or talking in English. Her mother leans on her and she stands to. How can we be so mean to each other? I know I too am capable of irrational…
We did climb the ski slopes, without snow, and it ended up being a brilliant 12 kl walk through the forest.
Saturday18th July
Zlata Koruna
Sitting on the steps of the kindergarden in shorts, T-Shirt, boots and feeling cold- … now I have my jumper on. This 13th century Church was built by Premysyl the same as U.H. In the garden the DAMU students are playing "Ziva Voda", a fairytale in the style of Commedia dell'arte. I'm sleeping on the floor with these students who are better prepared for this than I. I have no towel and sleep with only a sleeping bag, no mattress. So far no problems.
On Wednesday last week I booked my ticket to Paris for the following morning. I'm still here. Meeting Jan Borna has been the reason. He invited me to spend this time here and it is very special.
This environment holds many secrets and the work for the students becomes all the more important. This is their holiday but they are probably working as hard in a different way.
I believe that this kind of environment is the best for learning. what I realise is that you have to place yourself in these situations.
Amazingly the local camping ground is their richest source of public
. The multitudinous canoeing fraternity and sisterhood are drummed up each day, and they come. They throng to the performance and leave with lightened eyes and big smiles.
Cesky Krumlov
The revolving stage is what the Gold Coast could do with. For the winter months a thriving theatre could exist with this concept.
A theatre that performs popular work The Tempest, Magic Pudding, Haleluja Brava Genti, Ziva Voda, Power Without Glory